A project kicks off is always filled with excitement. So many hours have been spent in writing the proposal and making the case to investors, in inviting potential partners to join the adventure, and in fine-tuning the budgets. After more than a year, in December 2018, CIAT and its Consortium partners won the grant to lead SERVIR-Amazonia, the latest of the SERVIR Hubs. SERVIR is an unprecedented initiative of two very distinct agencies of the United States, NASA and USAID. The five-year project will use satellite imagery to address environment and development challenges across the Amazon Basin: Detect threats and prevent disasters due to hydrological events, drought, or fire, alert about illegal activities that harm our environment like illegal logging or mining. "I had the idea of this program 14 years ago. I wanted to link NASA science to development", said Dan Irwin, the global manager for SERVIR Global at the NASA Marshall Space Flight Center, and whom we were glad to have with us during our meeting.
Check out the SERVIR-Amazonia brochure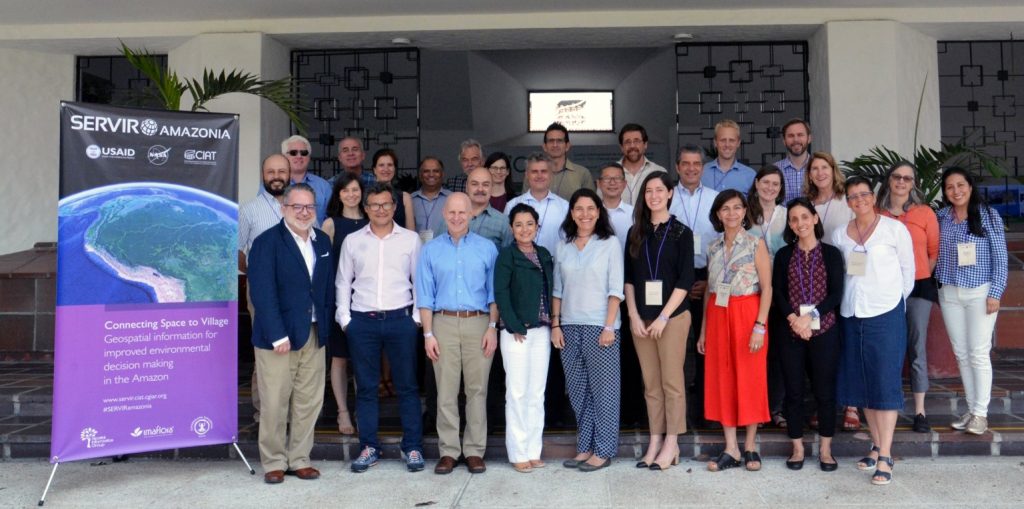 Project Kick-off meeting participants
As we gathered for the kick-off workshop at CIAT headquarters in Cali, Colombia, in March 2019, the participants experienced three big moments:
Meet with our colleagues from the NASA Marshall Space Flight Center
Understand the connection between SERVIR-Amazonia and USAID's regional strategy
Get to know our partners and work on a common understanding of what we were set out to do together
The excitement of our NASA colleagues was contagious. We understood that they have been working for a long time on the creation of the Amazon Hub. While NASA introduced us to the broader context of SERVIR, and how this initiative came about, they also shared with us their learnings from the ongoing sister projects SERVIR Mekong, Hindu Kush Himalaya, South-East Africa, and West Africa). We understood much better how we will work together with the amazing support team that NASA provides. Two major activities will help us to better design and develop tools, data and training based on geospatial information:
Subject Matter Experts are United States scientists or professionals who will be funded by NASA to devote two months of their time to help SERVIR-Amazonia address key issues.
The Applied Science Team: A NASA-led competitive grants process that supports SERVIR in developing science applications.
During the workshop CIAT Headquarter staff was paying very much attention to the unusual visitors. A "Breakfast with NASA" was a great opportunity to understand the potential of this new collaboration.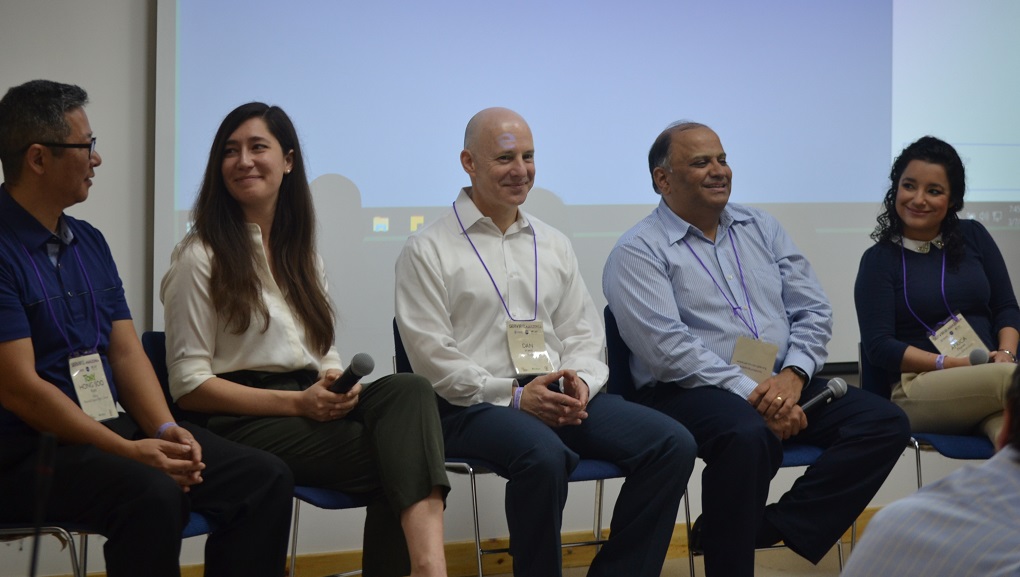 Breakfast with NASA: Kim Hong Soo, Kelsey Herndon, Dan Irwin, Ashutosh Limaye, Africa Flores, all from NASA Marshall Space Flight Center in Huntsville (from left to right)
The conversations with USAID were another moment in this meeting, specifically the opportunity to understand USAID's interest in SERVIR and the connection of the program with the USAID Amazon Vision 2020. SERVIR-Amazonia is a large and competitively awarded cooperative agreement, and all partners needed to learn about expectations and forms of collaboration.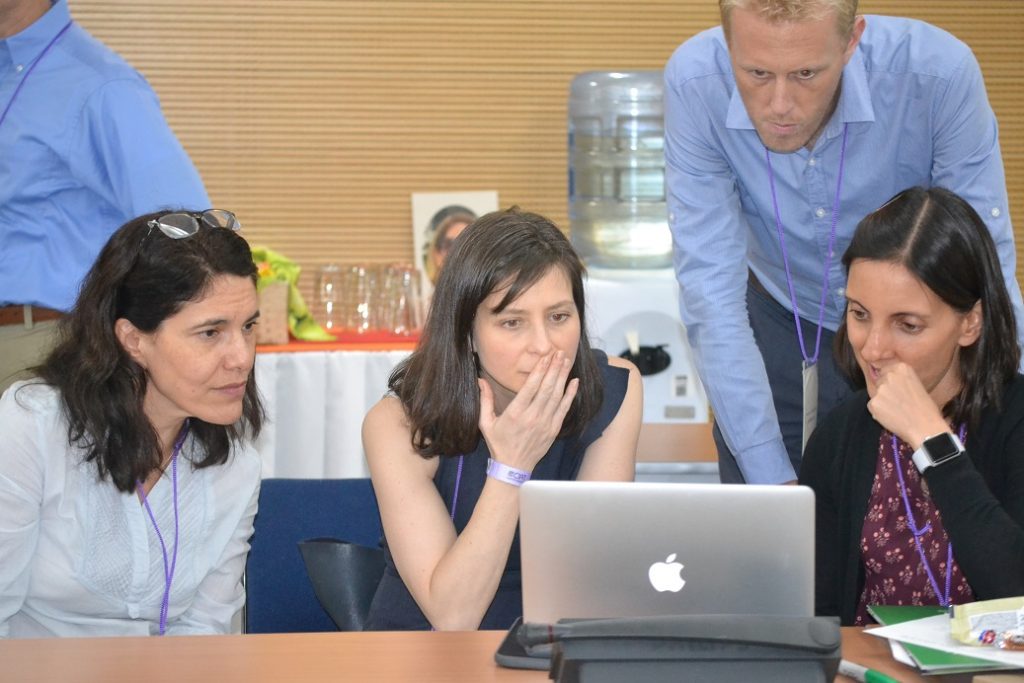 USAID team editing the press release
It was the first time that all the Hub partners met: NASA, USAID, CIAT and the Spatial Informatics Group – SIG (United States), Conservación Amazónica – ACCA (Peru), and the Institute for Forest and Agriculture Management and Certification – IMAFLORA (Brazil). Together we spent three days talking about the project logic and deciding what we wanted it to achieve. We were guided by three facilitators from Foundations of Success, and organization with years of experiences in framing those discussions as Theories of Change. The exercise allowed us to find common ground and the result provided us with the necessary ingredients for our work and MEL (Monitoring, Evaluation, Learning) plans for SERVIR-Amazonia.