On July 27, the SERVIR-Amazonia Program organized a User Needs Assessment Workshop in Barbados to discuss how geospatial information can be used to improve environmental decision-making.
This workshop is part of an expansion of SERVIR-Amazonia's work in the Caribbean and was attended by more than 18 representatives from institutions, including the Caribbean Institute for Meteorology and Hydrology (CIMH), user institutions, government agencies and departments, academia, nongovernmental organizations NGOs), international organizations, and other users.
The objective of the workshop was to assess user organizations' needs, priorities, and opportunities related to the co-design of training services for using geospatial information in two key areas.
The first was Water Resources and Hydroclimatic Disaster Management. This is linked to monitoring floods, landslides, sediment contamination, and meteorological and climate information in the Caribbean and the Amazon, as well as large-scale rainfall vulnerability to climate change, climatic variability, and extreme events.
The second, Ecosystem Management, analyzes land-use change and monitoring of mangrove loss, and addresses the technological resources and policy tools needed to promote conservation, protection, restoration, sustainable management, legislation, and certification.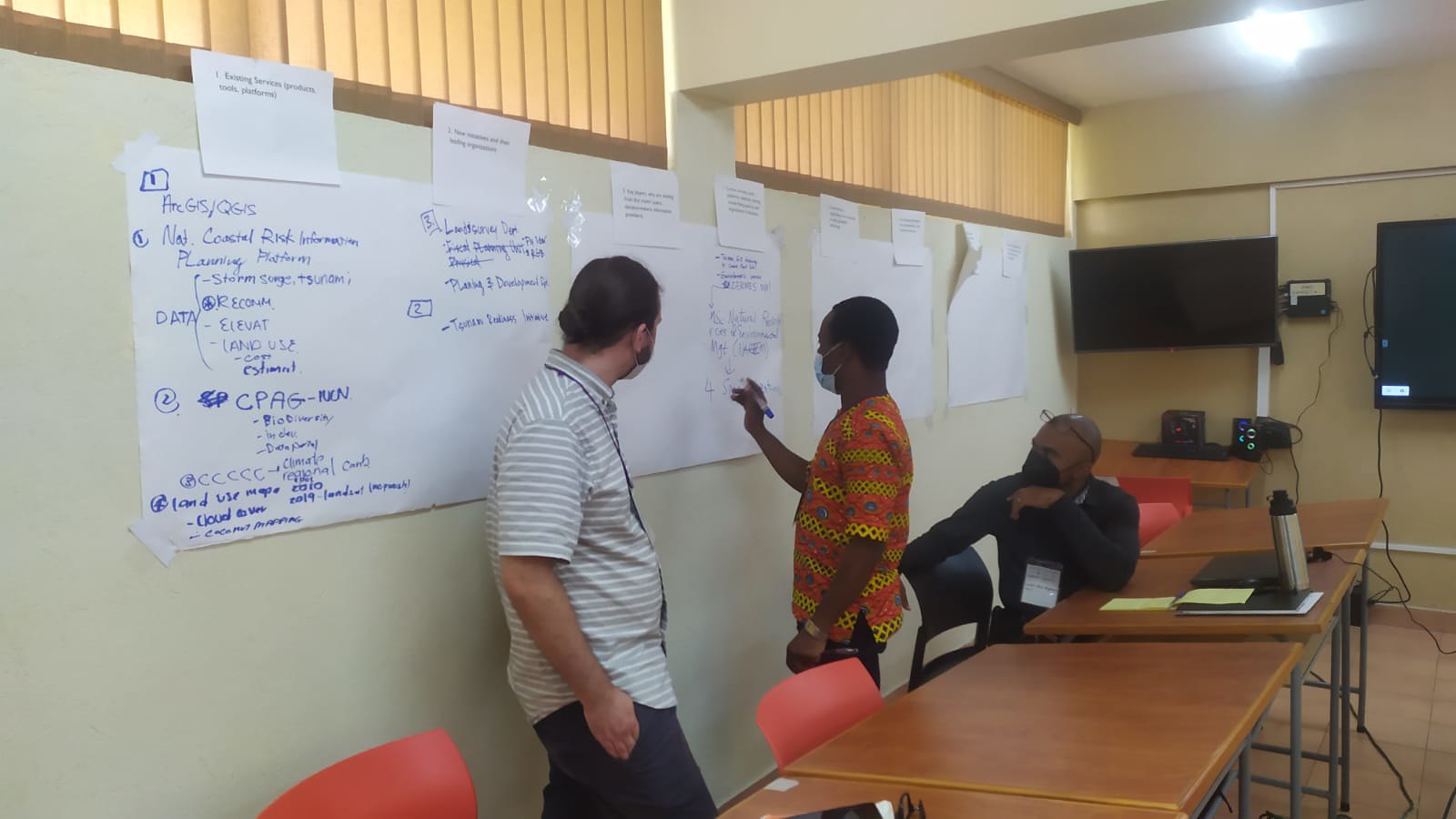 "We are thrilled about this additional funding provided by USAID for the coming two years, covering 2022 and 2023. SERVIR-Amazonia will broaden the geographical impact of its Program by providing training and facilitating technical engagement with government, universities, research institutions, and NGOs in the Caribbean," said Nikki Hassell, Project Management Specialist (Resilience) at the United States Agency for International Development (USAID) Eastern and Southern Caribbean Mission.
The morning session was focused on identifying the needs and opportunities in capacity building that SERVIR-Amazonia is seeking to establish, as well as the mapping and analysis of existing services, and critical actors.
Participants discussed how to apply the use of geospatial information in decision-making and identified areas for future training and knowledge sharing.
During the workshop, SERVIR-Amazonia presented results of a recent survey of           user institutions in the Caribbean to guide the development of a capacity-building program for countries at local level, as well as a proposal for a capacity building program that was discussed and supported by the participants. Another training session was held with representatives from the user institutions which focused on cloud computing methods, using Google Earth Engine (GEE) and Random Forest Classification.
"This is a fantastic opportunity because this workshop is the first step towards co-developing geospatial services to help Barbados to protect its natural resources and communities," said Helen Parache, Regional Science Coordination Lead of the SERVIR-Amazonia Program.
This workshop is part of an expansion of SERVIR Amazonia's work in the Caribbean and was attended by 25 representatives from institutions, including the CCIMH, Barbados Meteorological Services, the University of the West Indies, Cave Hill Campus, Centre for Resource Management and Environmental Studies (CERMES), Caribbean Disaster Emergency Management Agency (CEDEMA), Lands and surveys department Coastal Zone Management Unit (CZMU), Red Cross Caribbean Disaster Risk Management Reference Centre (CADRIM), Department of Emergency Management (DEM), and Barbados Water Authority.
Representatives from other organizations joined the meeting remotely, including the Antigua and Barbuda Meteorological Service, Saint Vincent and the Grenadines Planning Unit, and The Nature Conservancy (TNC).
"Co-developing this service is crucial for Barbados' sustainable present and future," said Shawn Boyce, Chief Hydrologist at CIMH.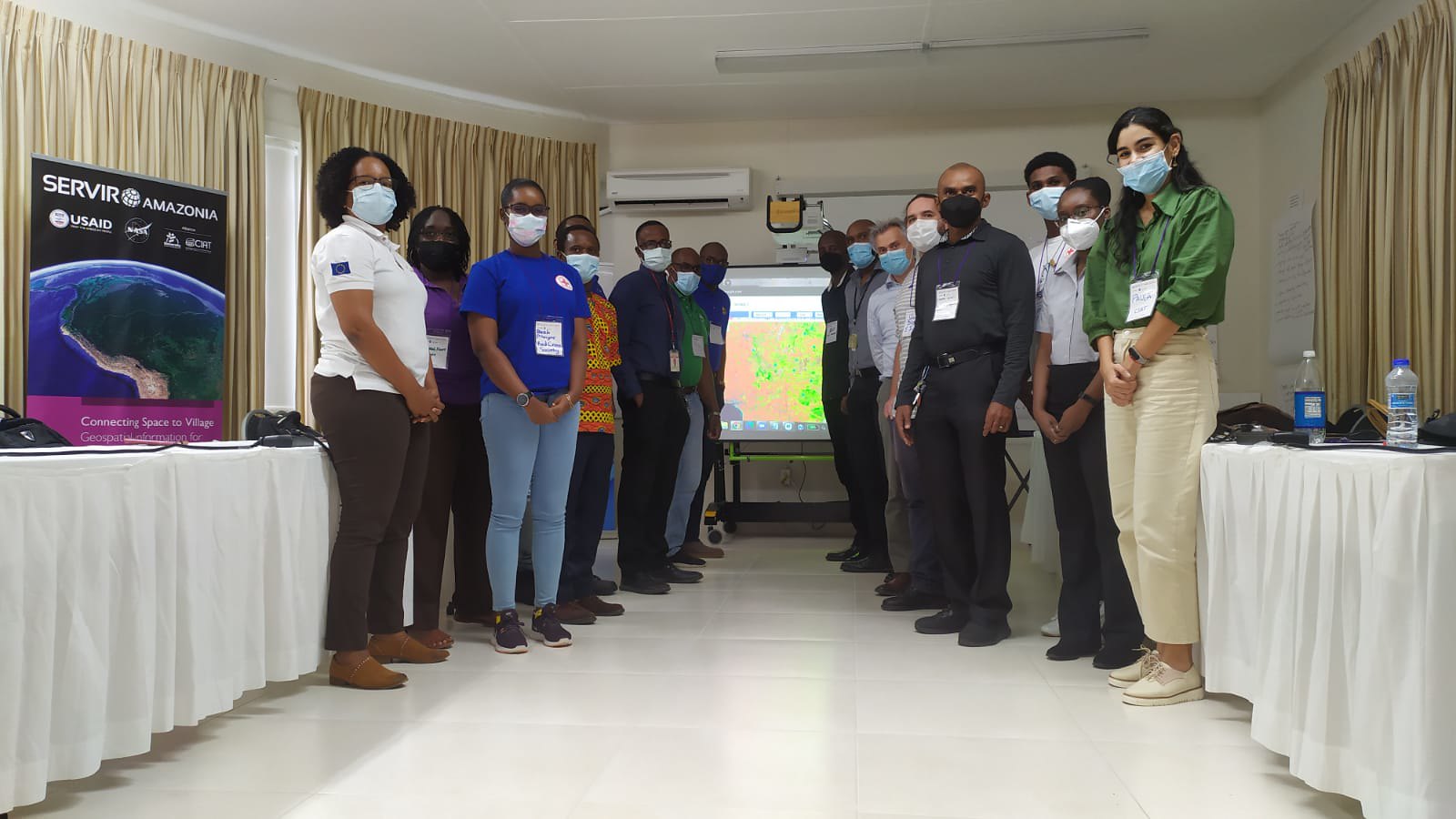 This workshop has been made possible thanks to the partnerships between SERVIR-Amazonia, the CIMH and 12 local institutions, with the aim of moving towards and improving environmental decision-making based on geospatial technology, information, and data.
"The workshop was crucial for identifying the main geospatial information needs in Barbados, which are to learn the different applications for satellite images, to find case studies such as flood identification, and to update land-use cover monitoring", said Paula Paz, Caribbean User Engagement Coordinator at SERVIR Amazonia.
The workshop is a follow up to a visit made earlier this year when a delegation from the SERVIR-Amazonia Program visited Barbados and other Caribbean countries to promote inter-institutional collaboration and to strengthen the necessary capacities to develop sustainable geospatial applications.
SERVIR-Amazonia is part of SERVIR Global, a joint development initiative between the National Aeronautics and Space Administration (NASA) and the United States Agency for International Development (USAID).