This year SERVIR-Amazonia participated in its second SERVIR Annual Global Exchange (SAGE), a yearly forum for exploring innovations in the use of Earth observation information to address global development challenges. The virtual exchange had the theme "Building A Better World Through Applied Science", and took place from March 15-18. Each day featured the latest developments and emerging trends in the delivery of co-developed services across SERVIR's four thematic areas: agriculture and food security; land use, land cover and ecosystems; water and water-related disasters; and weather and climate. Colleagues from SERVIR's five regional hubs in Africa, Asia and the Americas, USAID and NASA presented cases on service impact, best practice collaboration models, technical and program management innovations, and future directions.  Here we are summarizing the Program participation in the event, highlights and some takeaways. SERVIR-Amazonia thanks SERVIR Global and the SERVIR Support Team for such an effective and useful online version of the meeting.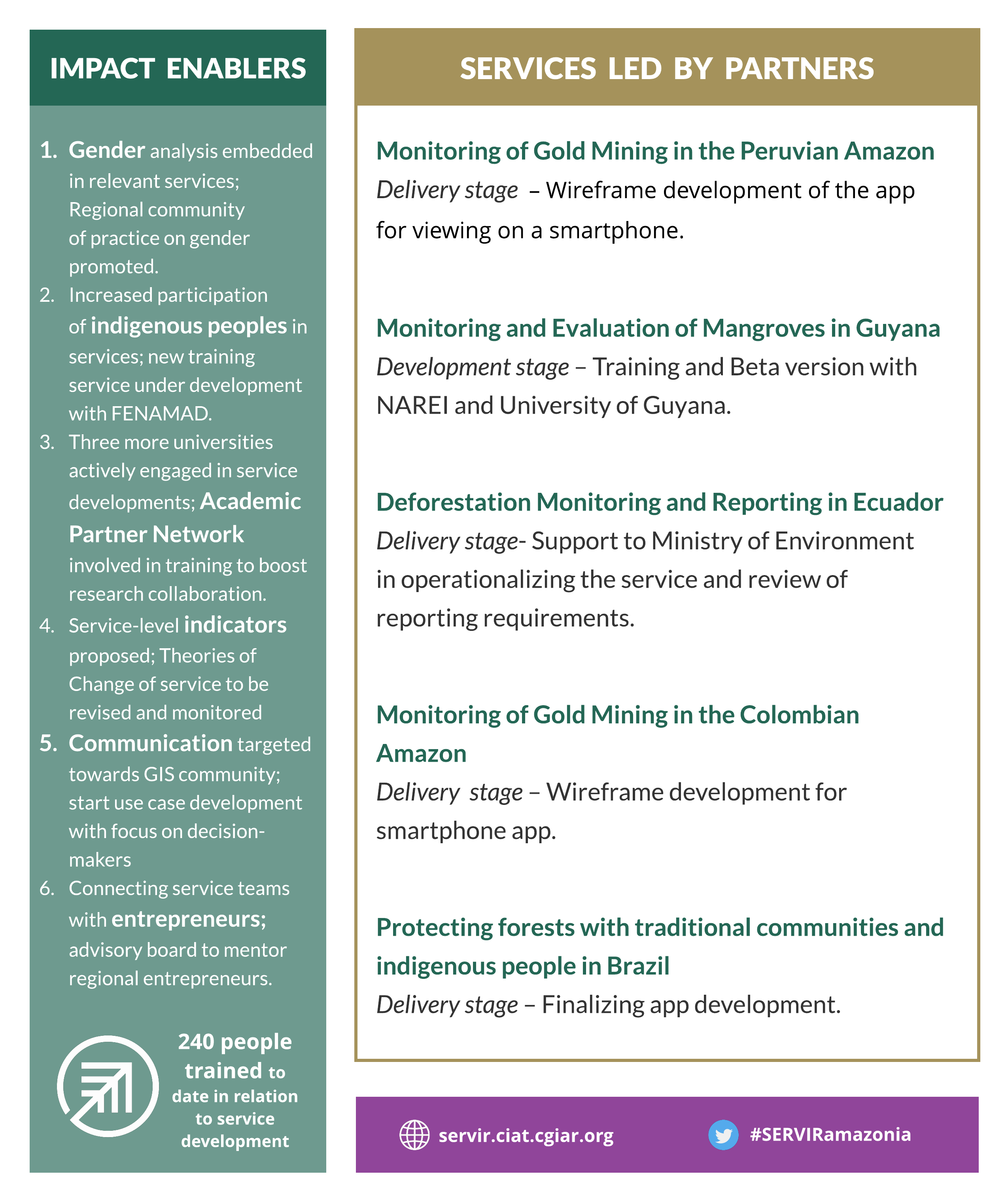 SAGE2021 Insights
A selection of the key messages that were conveyed. Click on each box to know more.
SAGE 2021 Begins
At SERVIR-Amazonia we looked forward to the SERVIR Global annual meeting #SAGE2021 with the motto "Changing the world through Applied Sciences".
"Let's be advocates for using science for effective decision-making, put the tools and results of science in the hands of those who need it most. Mitigation and adaptation requires robust research and linking space to village. On behalf of everyone in NASA, thank you!" (Karen St. Germain, NASA Director of Earth Science Division)
"Reflection is as important as imagining and implementing. And celebrating successes. let's not only look at the next problem to fix, and focus on impact of our innovation, reach and value" (Lawrence Friedl, Director Applied Science Program Earth Sciences Division) 
"The new administration puts focus on climate. SERVIR is well positioned to deliver on the new admin ambitions. Evidence, measurement and storytelling are critically important." (Greg Collins, Deputy Assistant Administrator, USAID Bureau for Resilience and Food Security)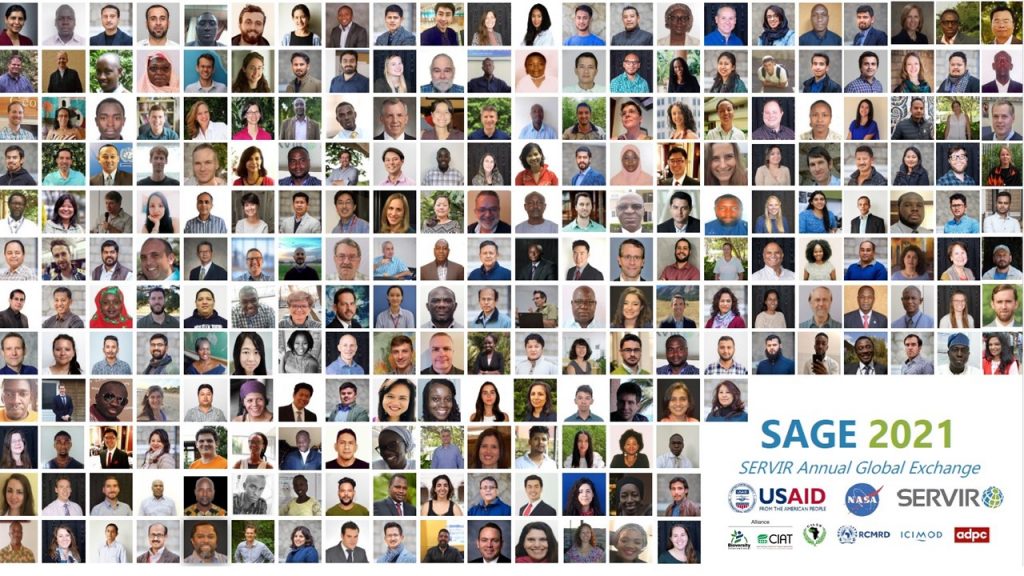 All of SERVIR: Collage of all SERVIR Hub teams 
SERVIR-Amazonia Perspectives
"We work closely within our SERVIR-Amazonia team and with our Hub partners SIG, ACCA, Imaflora  and Ecociencia, under the leadership of the Alliance of Bioversity International and CIAT, to build trust and to aggressively expand strategic alliances with local partners for a sustainable process of co-developing services" Carlos Gasco, Program Director
"The partnership engagement pre-COVID, our geographically spread team and open internal communications helped SERVIR-Amazonia to be prepared and productive during lockdowns" Brian Zutta, Science and Data lead
Every Big Win is the sum of small wins. "Our user engagement activities were the big win over the last year. They are fundamental for a sustainable process of geospatial service co-development. Our assumption is that the better the user engagement, the higher the service quality and uptake by decision-makers." José Leandro Fernandes, User Engagement lead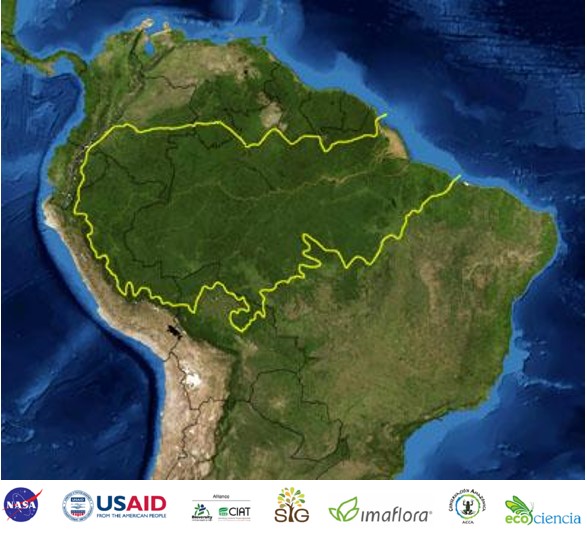 Learning Across Hubs and Continents
Illegal Gold Mine monitoring is a geospatial service with strong collaboration ties between SERVIR-Amazonia and SERVIR West Africa.
Foster Mensah, CERSGIS: "We could build up the service in Google Earth Engine interacting with SERVIR-Amazonia. We want to continue sharing code and data." 
Sidney Novoa, ACCA: "The collaboration and exchange of methodologies with SERVIR West Africa helped us gain time and efficiency in the development of the service"
The two Hubs will work together on technical front but also on inter Hub capacity building and service delivery mechanisms.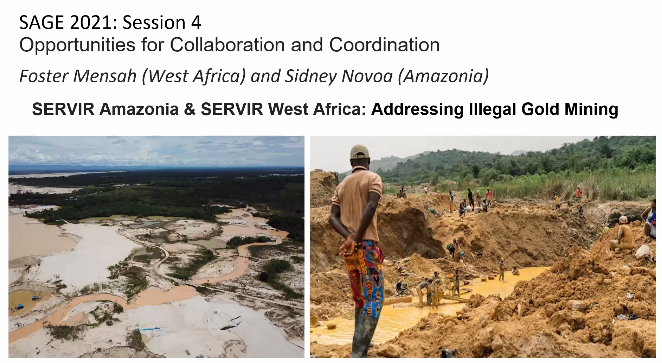 Service Theories of Change: From Design to Delivery
Acca's Milagros Becerra, GIS Specialist, and CIAT's Sophie Alvarez, MEL consultant, presented the Theory of Change of the "Gold Mining in Peru" service.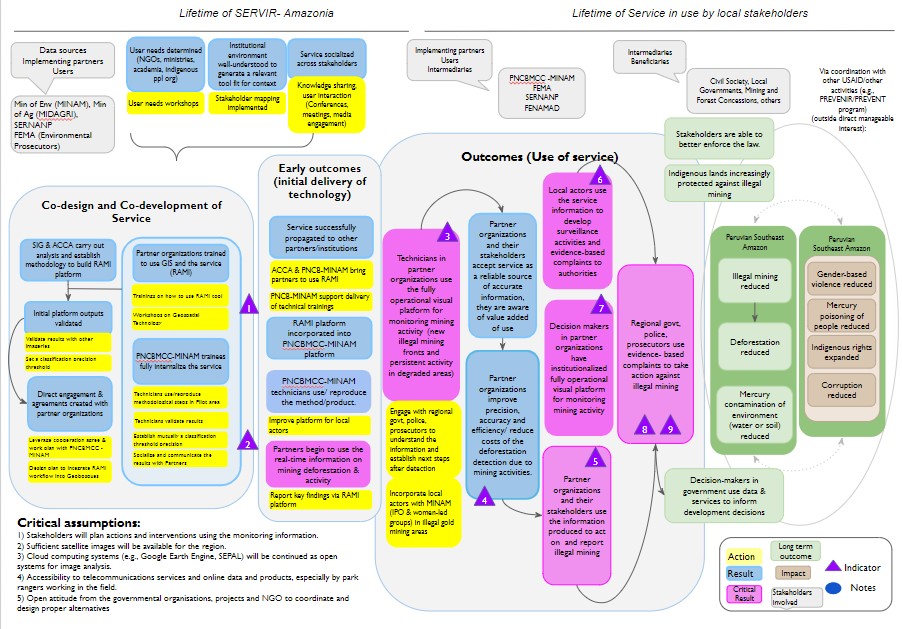 "Articulate the logic of service early on and in details. Revisit periodically. Do not under-estimate the efforts and resources needed to work with stakeholders", advised Zoltan Milic from the global support team.
Applied Science Teams (AST)
The 4 ASTs of SERVIR-Amazonia presented their research and advances in service co-development.
"When we start working in ASTs we need to think about re-usability at the design stage, and build relationships with other organizations. This will be the legacy of our research", indicated David Saah.

Service Demos
SERVIR-Amazonia partners Imaflora and Acca produced 5-minute videos to showcase the progress on the service developments that they lead.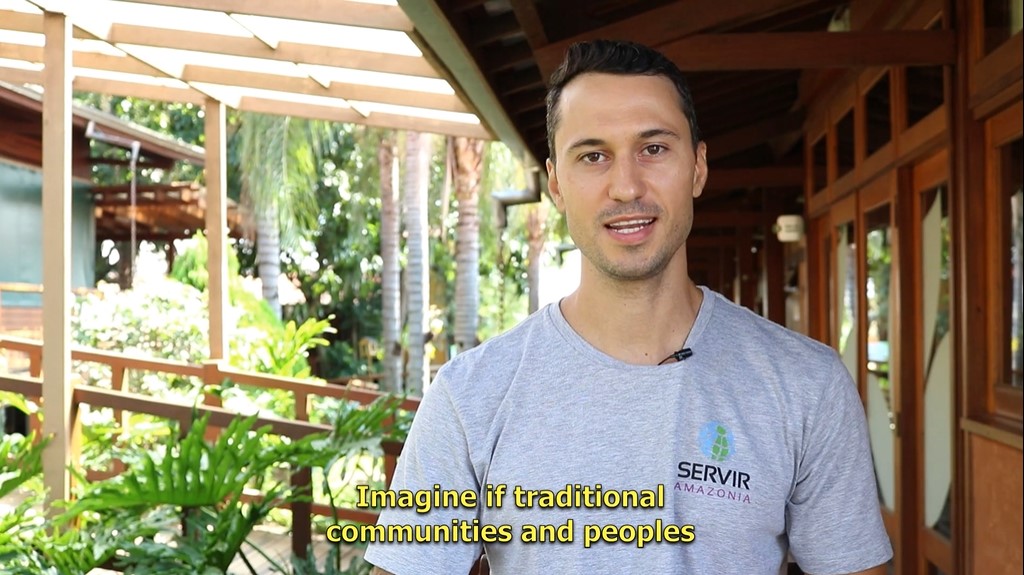 Vinicius Guidotti, Geoprocessing Coordinator at Imaflora: "The tool that we are developing uses satellite imagery and deforestation data so that users can identify new deforestation areas and share the information via a smartphone app, enriching the platform. We are currently launching the beta version and expect the service to be launched in July 2021."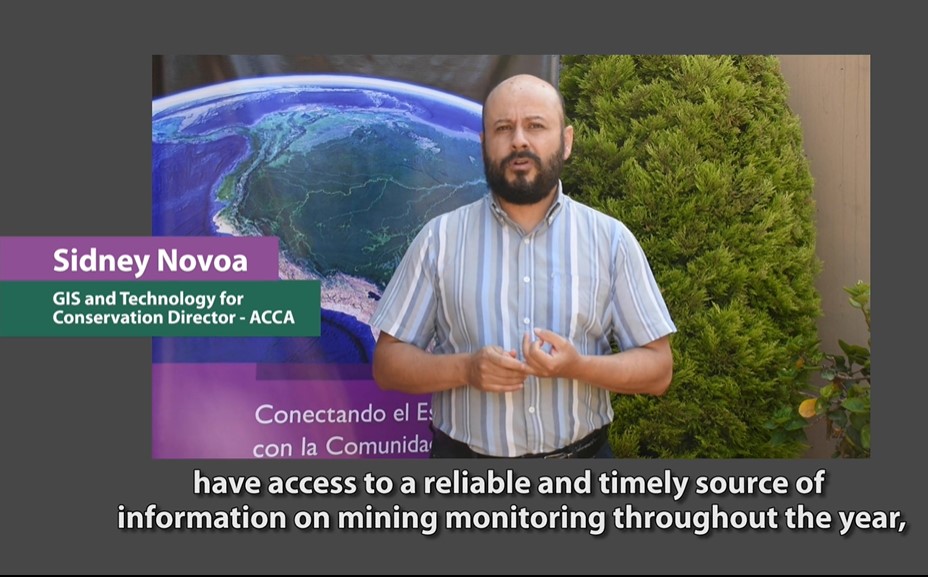 Sydney Novoa, Director GIS, ACCA: "This service provides a reliable and timely source of information on gold mining activities. It improves the effectiveness of planned interventions to stop the illegal activities. We expect a reduction in criminal activities and river contamination that affect the local population." Read more about this service
Communication Think Tank
For SERVIR-Amazonia, connecting space to village has meant documenting and communicating the process of co-developing geospatial information services, in order to make partners' roles, commitment, and long-term vision more visible.
For 2021, the small group discussion concluded that the main goal now is to generate content that enables people to easily and quickly understand information, service purpose and impact, and to enable beneficiaries to actually adopt them.
"SERVIR-Amazonia communications strategy supports its 3 strategic approaches. It empowers its consortium partners, promotes usage of data, and information by the global geospatial community and involves decision-makers in the uptake of the services in their institutions." (Simone Staiger, communications coordinator)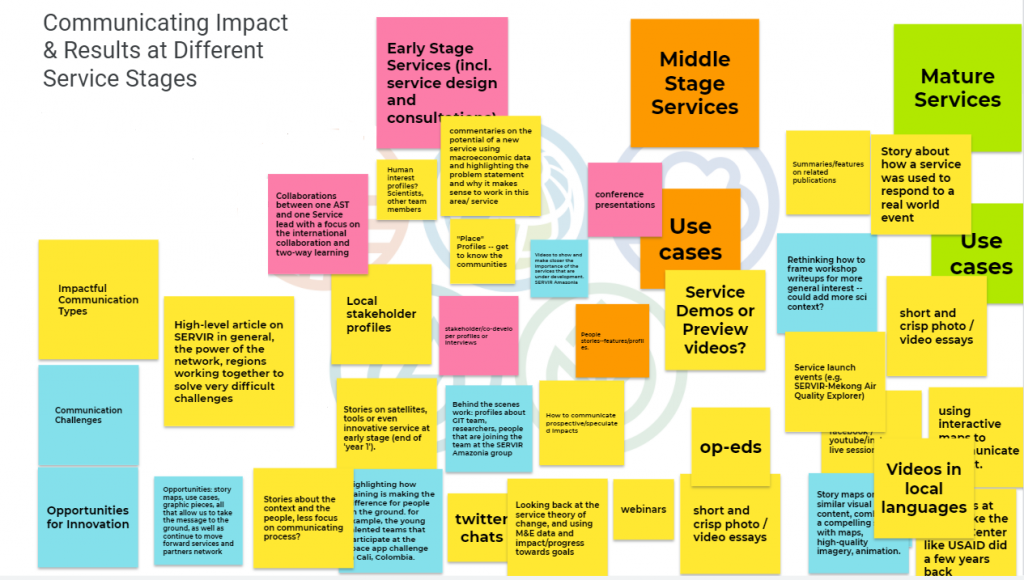 Women Talk about SERVIR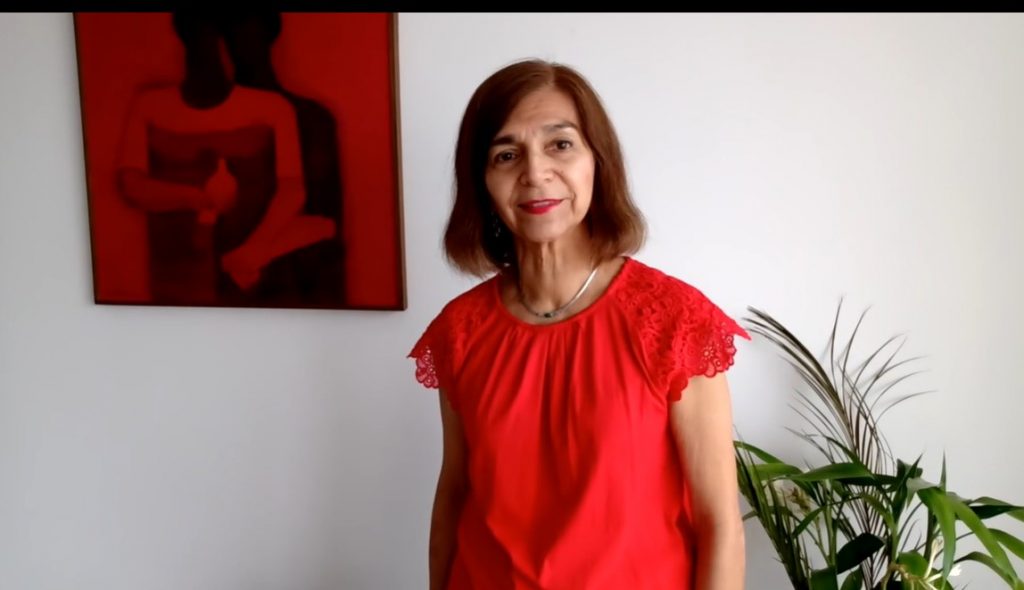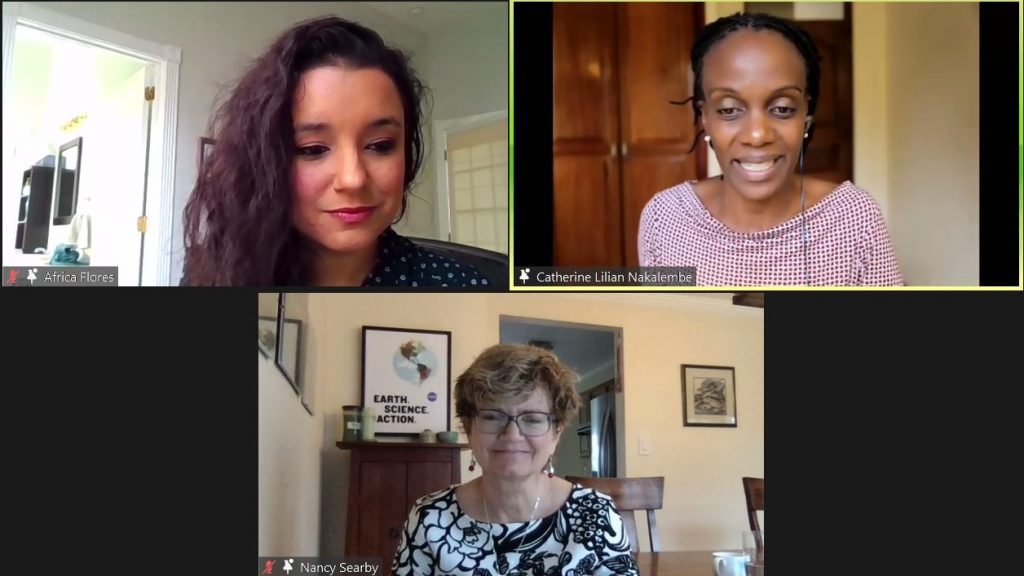 "The future of gender and inclusion in SERVIR is putting equity plans into practice at the community and regional level. We are practicing this with the AST led by Naiara Pinto working on women-led participatory mapping". Marina Irigoyen, Gender Advisor
We also witnessed an important conversation of 3 incredible award-winning SERVIR women, Nancy Searby from USAID, Africa Flores from NASA and Catherine Nakalembe from NASA Harvest. The three SERVIR colleagues who won awards in 2020 interviewed each other about the values of persistence, teamwork, excellence and friendship, and how those shaped their experiences.
"I like how our Program is striving for improvement towards excellence illustrated by the way we continue to improve SERVIR processes and tools", said Nancy Searby
Takeaways
For Carlos Gasco, SAGE 2021 inspired SERVIR-Amazonia to impulse our service delivery so that geospatial technologies reach our intended users as soon as possible, including women and indigeneous peoples.
This includes preparing targeted training activities and access to training resources. "For some stakeholders, potential partners in service development, training is a prerequisite in order to guide effective service development", adds Carmen Jossé from EcoCiencia. "Training activities and access to training resources are important for our users so that they can develop their own solutions. The sharing of knowledge between a wide variety of audiences is key in this process", says José Fernandes.
Marina Irigoyen is engaged in a set of activities under the SERVIR-AGENT (Advancing Gender in the Environment) partnership. AGENT, a USAID-funded program, will provide an array of support to advance women's empowerment and gender equality in SERVIR-Amazonia services. 
Brian Zutta expects an increased connection between the Geospatial Information Technology (GIT) teams of Asia, Africa and Amazon as many of the hubs are experiencing the same challenges or have experienced similar problems. Various participants expressed interest in sharing knowledge and experience in the area of participatory mapping and citizen science, to make our services as interactive as possible. SERVIR West Africa and Amazonia will continue their knowledge exchange around the respective gold mining monitoring services. 
The SERVIR-Amazonia MEL team proposed a set of service level standard indicators and looks forward to discussing those with the other Hubs in Africa and Asia. "In terms of communications, we see an opportunity to develop two stories with SERVIR Global: One on the Big Wins and one on collaboration on service developments across Hubs", says Simone Staiger.