Co-authors of this Blog: Simone Staiger (Alliance Bioversity-CIAT), Sophie Alvarez (Consultant and facilitator), Priscila Mantelatto (Imaflora), Adriana Varón (Alliance Bioversity-CIAT), Camila Alomía, Milagros Becerra (both ACCA), Kelsey Herndon (NASA)
"NASA's Applied Science Program declared 2020 the Year of Communications, so we invite you to innovate and be dynamic in your messages and the media you use". This is how Kelsey Herndon, SERVIR-Amazonia Regional Science Associate at NASA opened the online workshop of communications professionals of SERVIR-Amazonia that was held on the mornings of August 5 and 6, 2020. The objective was to get ready for active communication around the geospatial services that the Program is co-developing with partners, which in turn allows planning for the third year of Program activities.
Over the first 2 years of the Program, SERVIR-Amazonia has invested in communications and achieved important results, mainly in its targeted communications with Hub and Consortium partners. This has been possible thanks to a comprehensive user engagement process implemented during these two years. Involving the full Program team in communications activities – 24 blog authors to date! – has been a dynamic way of documenting progress and sharing it with our partners and stakeholders. "Knowing our audience and its communications preferences allowed us to target our messages and reach our immediate audiences", says Simone Staiger, Communications Coordinator of the Program.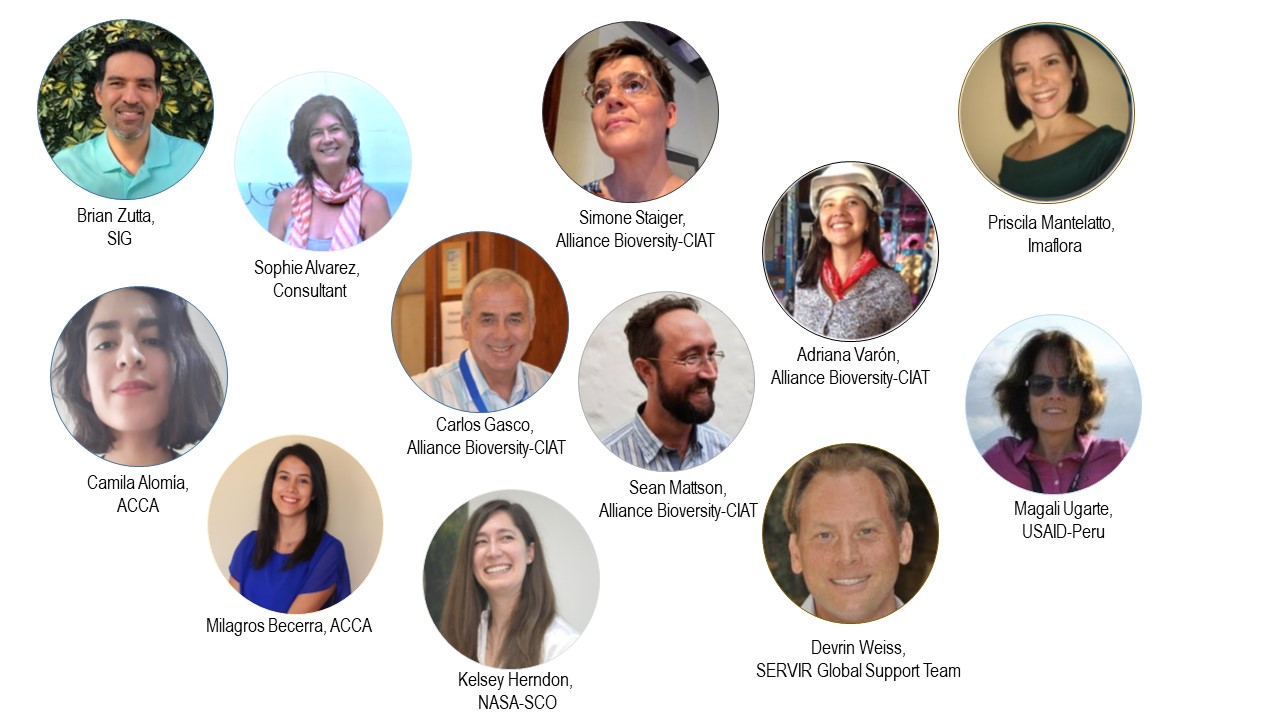 Illustration: Workshop participants — Communications professionals and staff from SERVIR-Amazonia Hub partners
Building on Strengths
Magali Ugarte, Communications Director of USAID-Peru reinforced Herndon's invitation to explore and innovate: "Our messages have to become shorter, and include video and compelling images that feature partners and users. Let's focus on the positive change that the Program enables to stimulate."   
Carlos Gasco, Program Director and Brian Zutta, Science and Data Lead, provided some insights into future challenges: Identify and communicate the real impacts of geospatial services, inclusion of  women and indigenous communities considerations, and working closer with the key local and national partners and decision makers.
Short presentations of case studies and good practices of our Hub partners showed the group´s complementary strengths, such as Imaflora's experiences in communication with and for traditional communities. "Our communications approach focuses especially on stories that showcase the possibility to increase agricultural production while contributing to biodiversity conservation. We organize events, exchanges, publications and press trips that allow journalists to get first-hand experiences of the local ownership", says Priscila Mantelatto, Communication Coordinator at Imaflora. Conservación Amazónica – ACCA brings to the table a deep knowledge on how to make geospatial data digestible in the MAAP project reports and the related outreach process. In their presentation, the team highlighted the importance of converting technical information into simple language taking into account the different target audiences, whether they are decision-makers, researchers or the general public.  The Alliance Bioversity-CIAT presented a different example related to communications of scientific knowledge to the press: Using EurekAlert, the communications team is managing to push results from scientific papers successfully into the media for a large group of journalists.
Telling the service story  
In a short exercise with the service developers from Hub partners, the communications professionals worked on a "use case template", designed by USAID to capture concrete information about how specific users or user groups use SERVIR services and how the uptake of these services result in positive outcomes. The use case is a tool that provides information for evaluating the service and for preparing a subsequent communications plan. Four aspects of the use cases were highlighted in the discussion that followed the exercise: 
Feedback comes from the field

: Interaction with communities living in the areas of service intervention can provide valuable information and insights.

Timing is key

: We can only communicate about services once we are sure that data and information is accurate and that our co-developing partners are comfortable with it. Otherwise, we put at risk the trust of our users.

The story never ends

: Geospatial services are continuous work in progress, and its story develops as needs and technology evolve. 

Images matter

: Multimedia needs to be part of the use case. We must pay special attention to attribution, and never feature pictures from people without their previous explicit consent.
Insights from environmental journalist Pablo Correa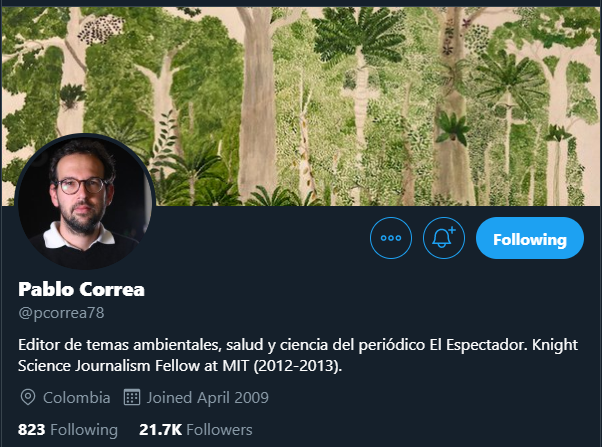 Pablo Correa is an award-winning editor and journalist with the Colombian newspaper "El Espectador", writing with his team of eight some 500 news articles per year about health, environment and science. He kindly agreed to share with us some insights about trends, best practices and success factors for communicating sustainable landscapes issues effectively. 
An undeniable trend, he said,  is the incremental consumption of digital media.  The 2020 Digital News Report from Institute Reuter and University of Oxford shows how online consumption of news largely dominates over print and confirms that young people are 90% digital in their information consumption habits. Pablo recommends focusing on solid digital communications plans that include short videos and do not take an activist stance. For program specific communications such as SERVIR-Amazonia, it is key to develop targeted distribution channels (including WhatsApp, which deserves to be explored), and create traction around value-added content, co-developed with the scientists themselves: "Scientific journalism is also the scientist's job, and I know that many of your colleagues do have a positive attitude towards communication", Pablo says.
Pablo also analyzed the reader's top 10 articles of El Espectador between 2016 and 217. He  concluded that the trend increasingly includes stories of hope featuring smart innovations, after a long period of almost exclusive coverage of environmental disasters, its threats and negative consequences. Good environmental journalism is valued by the audience who prefers short stories that involve ordinary people. "For the first time we have the possibility to listen directly to our audience. We need to take advantage to better understand what interests people and moves their emotions", Pablo Correa says.
Planning communications 
Initially planned as a 4-day face-to-face meeting, the eight hour workshop held in two mornings enabled the team to gather clear inputs for the third year of Program implementation, to begin in October, 2020. The group will work together to celebrate the arrival of new Consortium partners, document the co-development of services, and start planning the launch of the first geospatial data and information platforms involving an increasing number of audiences and hopefully generating interest in national and regional media. The role of the Hub partner communication units at Conservación Amazónica – ACCA, Imaflora, SIG and the Alliance Bioversity-CIAT continue to be crucial to cover the services in-country, and create bridges to potential service user organizations and communities.
Participants agreed to hold this meeting again within six months to evaluate the advances made and possibly start including communications staff of our new Consortium partners as they join SERVIR-Amazonia.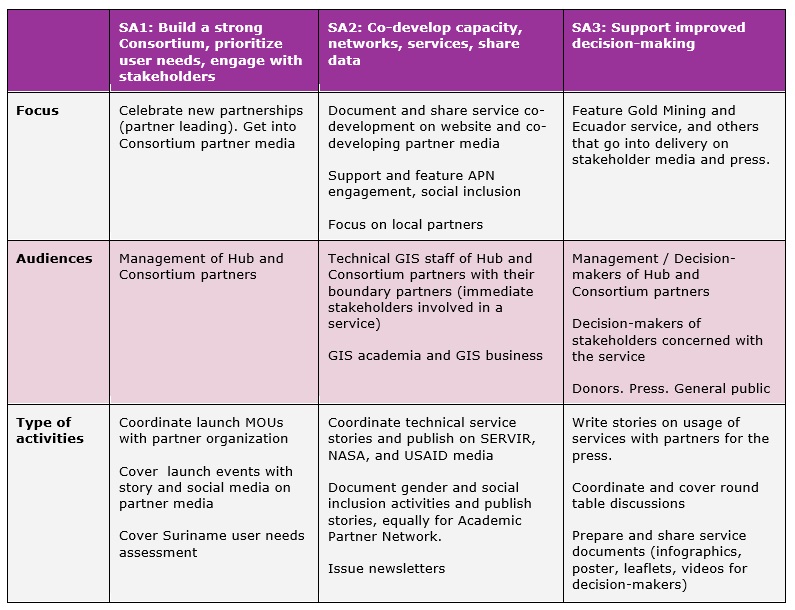 Table: SERVIR-Amazonia communications focus, audiences and type of activities for year 3 of Program implementation