Advancing Women's Prosperity in the Workplace through Technical and Soft Skills in Environmental Science and Geospatial Technologies
There persists a gap in women's employment and advancement in sectors utilizing geospatial technologies as tools for addressing pressing concerns like climate adaptation, ecosystem change, drought, fire, food security, and other environmental threats around the world.
The increasing "feminization" of geospatial technologies since the early 2000 involves innovations in geospatial technologies and research practices, growing critical self-awareness among researchers, and the development of feminist visualization as a research tool (McLafferty S. 2005). The Women in GIS network identified about 100 women in South America interested in leading changes. However, women working in geospatial technologies, in the government offices, universities or academia of Amazon countries have not yet been empowered with opportunities to hold leadership positions as more than 60% of leadership positions are occupied by men, with regional and cultural differences.
To address this gap, the SERVIR Global partnership presents this unique initiative to engage early-career women to improve access, increase agency, and pursue pathways for economic opportunity in regions where SERVIR works. 
This first round of the Program is focused on SERVIR-Amazonia, which includes activities in the focus countries of Peru, Brazil, Colombia, Ecuador, and Guyana. Individuals from all countries in Latin America and the Caribbean are welcome to attend and observe the activities of the Program described below.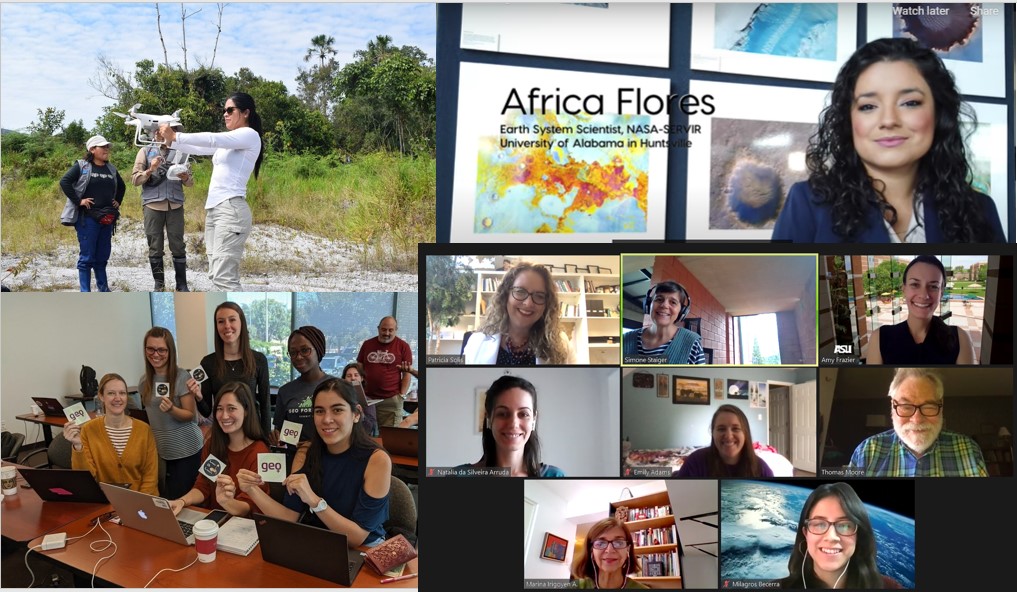 Goals of the Program

By building marketable leadership aptitudes and skills, fostering emerging women leaders in geospatial and environmental sciences, encouraging entrepreneurial mindsets, and strengthening women's networks and opportunities for mentorship in environmental and geospatial information technology industries, the program aims to accelerate women's access to economic opportunities in environmental science and geospatial fields while improving the technical and professional skills needed to succeed in the workplace
Through a series of webinars, an online curriculum, and a competitive fellowship program, we will offer: 
Professional development with emphasis on improving "power" skills such as leadership and networking;

Links to participants to experienced mentor networks and facilitating mentorship opportunities; 

Technical training in geospatial domains; and 

Opportunities to apply and extend this learning opportunity in their professional domain, for participants selected to be fellows in 2022. 
The substantive content aligns with and reinforces SERVIR priorities for incorporating gender-sensitive design, dissemination and uptake of environmental information so that all people, particularly, women, girls, and other vulnerable populations, are able to use that information to build resilience.
Program Format



The Program offered three opportunities for participation
I. Webinar series

In mid-2021,  three webinars were held online to hear from panelists and peers on important leadership and workforce subjects
June: Leadership Webinar
Leaders and aspiring leaders learned from women playing prominent roles in three of the region's foremost organizations in environmental science and geospatial technology. Words of introduction from an internationally renowned scientist and diplomat sparked and stimulated a conversation among the panel. Read more about this Webinar
August: Perspectives from Indigenous Women
We heard the voices and experiences of indigenous women working to shed light on environmental justice, tradition, and broadening knowledge.
September: Networking and Mentoring Approaches
This activity offered hands-on, practical activities online with well-connected experts on how to find advisors and get engaged in supportive communities, in ways that can advance the careers of women in GIS.
II. Online Self-Paced Curriculum

Take our free, Online Self-Paced Curriculum for technical and "power skills" training. Topics include improving geospatial skills, including open mapping, machine learning, artificial intelligence (GeoAI), and other technical content that is tailored to SERVIR's scientific priorities. This curriculum will also introduce modules on leadership, networking, mentoring, and an entrepreneurial mindset among other topics. The course will be open from late June to September.
Registrations closed
III. In-person Fellowship

Women participants from countries served by SERVIR Amazonia who have completed a minimum level of the online curriculum will be eligible to apply for in-person Fellowship experiences in 2022. 
About the organizers
This work is implemented through a partnership between SERVIR Global and SERVIR-Amazonia led by the Alliance of Bioversity International and the International Center for Tropical Agriculture (CIAT), and supported by researchers from Arizona State University. SERVIR is a joint development initiative of National Aeronautics and Space Administration (NASA) and United States Agency for International Development (USAID). These activities are funded through grant USRA#80MSFC17M0022: 03605-06.