The figures from the report published in May 2020 by UN Women –  United Nations Entity for Gender Equality and the Empowerment of Women – entitled Women in Science, Technology, Engineering, and Math in Latin America and the Caribbean (LAC), are clear in suggesting that in 2017, out of the total number or researchers in engineering and technology in the region, only 26% were women in Colombia; in Bolivia and Peru, around 19%, in Brazil 36.7%, and in Ecuador, 20.7%. Worldwide, only 29.3% of women are researchers, and only 3% of the Nobel prizes in science have been awarded to women.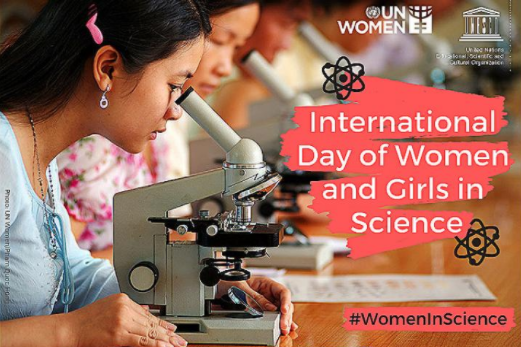 We are, of course, aware that there has been a remarkable progress in the last decades to close the persisting gender gap in the science, technology, engineering, and math (STEM) sectors. Among such, the decision by the United Nations in 2016 to proclaim 11 February as the International Day of Women and Girls in Science to guarantee their access and participation in science, with the purpose of empowering them and making them key actors of the global aim of achieving the Sustainable Development Goals (SDGs).
At SERVIR-Amazonia, women researchers are a key factor to advance the regional strategy; their knowledge builds up and helps finding new solutions towards protecting natural resources in rural and indigenous communities of the Amazon basin. On the occasion of the International Day of Women and Girls in Science, we highlighted some of the important efforts and achievements made by SERVIR-Amazonia women so far.
Women shining in SERVIR-Amazonia science
Patricia Cota Gomes: The engineer with an indigenous soul
Patricia Cota Gomes has been part of the team at the Institute of Forest and Agricultural Management and Certification (Imaflora) for over 20 years, where she leads the Origens Brasil Network devoted to assess/appraise the native traditional background of indigenous communities: in Brazil, specifically in four territories that are home to 35 protected areas and a network of 1,760 producers. Female producers within this network represent 45% of the total membership, and most of them are indigenous women. They are the ones Patricia approaches from a perspective that includes impact indicators to measure aspects, such as how involved they are in the decisions to market products in the community. This data will later reveal the economic role of indigenous and riverine women within their communities.
In collaboration with SERVIR-Amazonia, Imaflora is co-developing a geospatial service called ORIGENS, which will serve as a pilot and focus on protected areas, indigenous reserves, and territories from Quilombola, in the Calha Norte region in the State of Pará. This service has three main components: (i) mapping the territory of the communities served by the Origens Brasil project; (ii) mapping and monitoring deforestation and forest degradation inside and outside of these areas of influence using advanced satellite and radar datasets (e.g., SAR, Planet); (iii) integrating data about trends in forest dynamics with socioeconomic indicators already collected as part of the Origens Brasil program, to understand the relationship between forest disturbance and community wellbeing; and (iv) developing a platform with deforestation and degradation warnings in near real-time, to help communities deal with any illegal activities in their territories. This is done with a view to increase the protection of forest lands included in the Origens Brasil Program, through the participation and training of traditional and indigenous communities to assess high-quality and up-to-date information on deforestation and forest degradation. Read the full story
The award-winning career of Africa Flores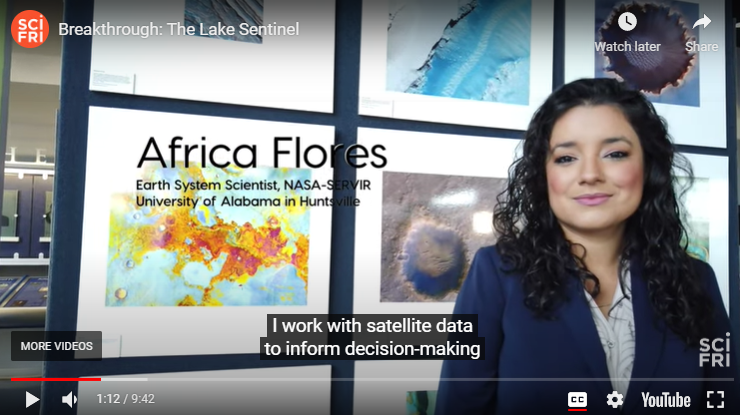 The idea of women not being able to lead teams despite their abilities still prevails along the river banks, as well as in urban areas, well into the 21st century. In the LAC region, there are limitations for young professional women to participate in work related to geo-referenced information systems (GIS) and in general, in science and technology. Such limitations might be the expression of the so called micro-macho culture, understood as behaviors, gestures, comments, and actions that we live with, which are structurally normal, and are intended to place men over women.
Hence the importance of being inspired by the life experiences of Latin American women who put a human face and soul to the work on GIS. This is the case of Africa Flores, regional science coordination lead for SERVIR-Amazonia. From her central role in the Program, this Guatemalan citizen is devoted to working with satellite data that lead to a better informed decision-making in terms of environmental management. She conducts her activities in the Amazon and in places such as the Atitlán Lake. She aims at simultaneously to stay in touch with her roots, and advance in her mission to contribute to the protection of the planet's natural resources for current and future generations. Read the full story and watch the video
Blanca Ponce, making it work despite the Pandemic
Blanca Ponce is a young forest engineer working as a Resources Monitoring Analyst at the Directorate General for Information and Forest and Wildlife Management of the National Forest and Wildlife Service (SERFOR), an entity that began a partnership with SERVIR-Amazonia on forest fire forecasting in Peru. In this region, as in the rest of the world, the COVID-19 pandemic has placed a strain on the capacity to find ways to replace field work contributing to prevent forest fires, providing training in techniques, such as preventive forestry (pruning) and composting, among other alternatives to burning. Blanca has learned to have the right attitude and to plow her way through a mostly male scenario, like the authorities responsible for risk management, firefighters, and the National Police, among others. Read the full story (in Spanish)
Exploring Geospatial Systems and their Potential to Address Gender Inequities
Recently, Marina Irigoyen, advisor on gender issues at SERVIR-Amazonia, along with consultants Jennifer Twyman and Mariola Acosta, revealed the results of a study entitled Gender Relations and Inequalities in the Amazon: Exploring Geospatial Systems and their Potential to Address Gender Inequities. In this report, they summarized the situation of women in the Amazon and the main challenges they face. They formulated  recommendations on the way in which geospatial projects and services can address gender inequality issues, and how they can benefit women in particular.
This is how the team identified two opportunities through which geospatial service programs can contribute to reduce the gender gaps and benefit women: 1) Programs can interact with local organizations and provide suggestions on how they can mainstream gender issues comprehensively into the use and application of their geospatial services; 2) We should design and offer geospatial services with an explicit gender approach in the region. Because this is all about working together with women as a team from the very assessment of their needs to the offer of services that include their perspective of rural and indigenous communities in the region and worldwide.
Looking forward: Gender focus in capacity development and formation of a community of practice
"These are some of the ongoing initiatives being prompted at SERVIR-Amazonia, says Marina Irigoyen. "Of course, we should not fail to mention one of the new challenges: support capacity building of women cacao producers' groups in Ucayali, Peru, so they are able to classify land cover and differences between forest and agriculture lands through high-resolution imagery" she says. This work is being carried out with an Applied Science Team of the Program, led by another shining women scientist, Naiara Pinto from the NASA Jet Propulsion Laboratory. As in many other cases, this is not an isolated work and it is being carried out in coordination with the Cacao Alliance, building the capacities of local facilitators for virtual training.
"It is in order to promote the dialog on these findings and thoughts that we have organized meetings of women promoting science and technology, particularly in geo-referenced information systems, in Peru, Ecuador, Brazil, and Colombia, aimed at the creation of a Community of Practice", says Irigoyen.  She adds: "Along the way, we have become acquainted with other initiatives with similar goals, which we will approach to establish linkages towards a common goal: empowering women in STEM".
Author of this blog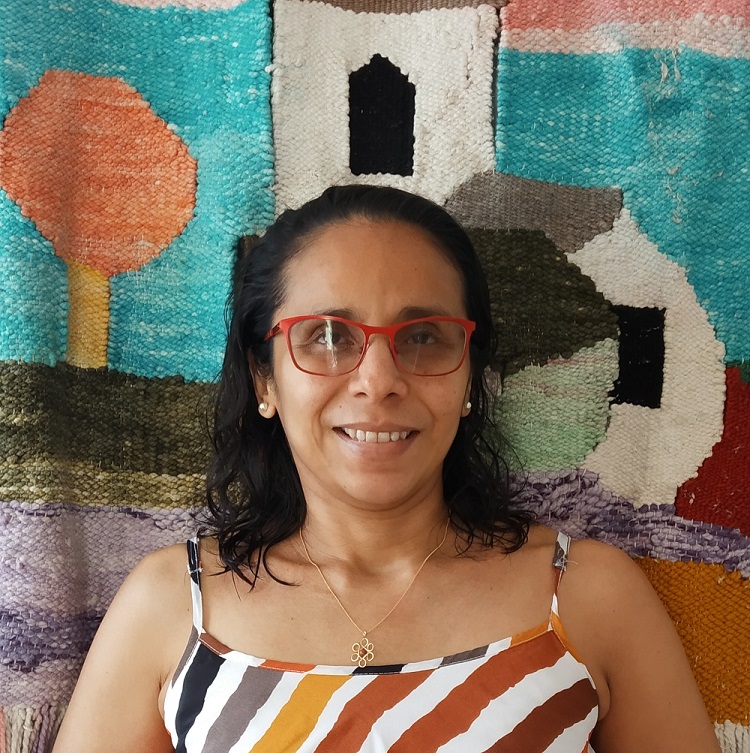 Andrea Carvajal
Communications Consultant
SERVIR-Amazonia