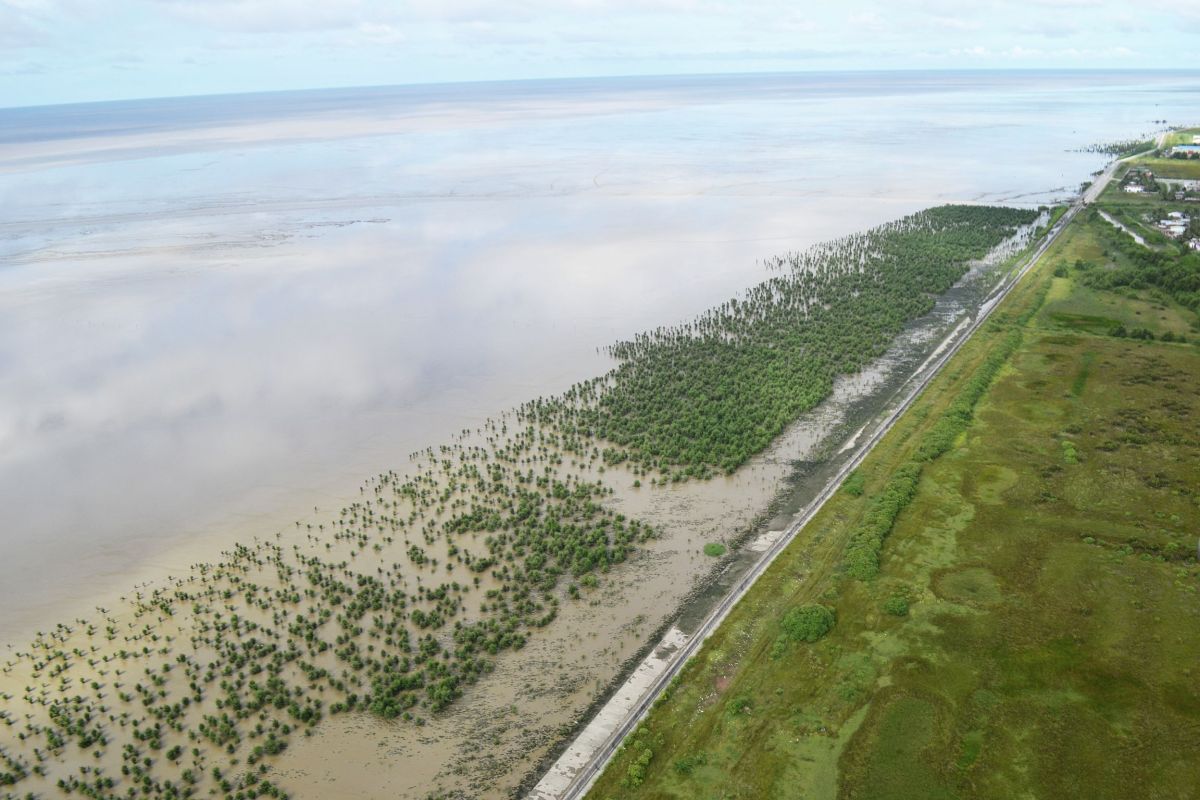 Guyana coastal area. Photo credit: NAREI
Mangrove forests make up much of the coast of Guyana and they are under threat from growing population and land-use change. Because much of the coast of Guyana is below sea level, the mangroves serve as a natural barrier protecting inland ecosystems from flooding and saltwater intrusion. However, rising sea levels and coastal development threaten mangroves, and reduce yields of rice and other crops. Urban dwellers are also affected by higher intensity floods.
By signing a collaborative agreement, the National Agricultural Research and Extension Institute (NAREI), an agency of the Ministry of Agriculture of Guyana, and the Alliance of Bioversity International and the International Center for Tropical Agriculture (CIAT), express their commitment to formalize their collaboration as an inter-institutional platform to help the government and civil society better manage the fragile mangrove environment.
The geospatial information service will bring the latest technology from the National Aeronautics and Space Administration (NASA) to bear on mapping the extent and structure of mangrove forests along the coast of Guyana. The service will build upon important advances in mangrove remote sensing. It will overcome limitations of optical satellite platforms to persistent cloud cover by using radar sensors, a satellite technology that penetrates clouds, reaching all the way inside the forest canopy. The service will allow NAREI and its stakeholders to serve larger efforts in forest and biodiversity conservation in Guyana, and in particular to:
Act on hotspots of deforestation stopping them on time,
Engage in land-use planning, policy-making and actions that protects mangroves from being converted to other land uses,
Plan protection efforts for farmers in low-lying coastal regions.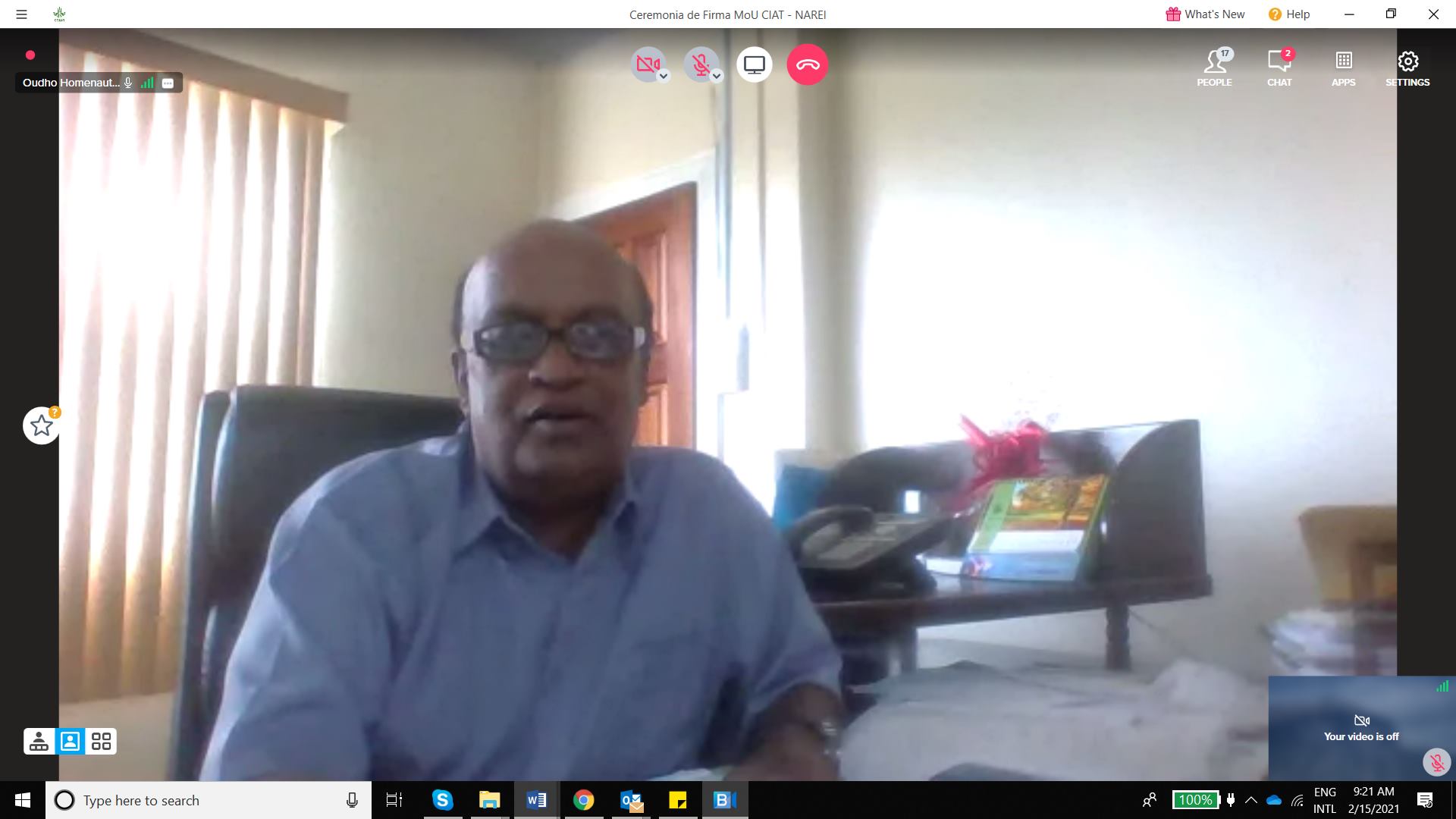 Dr. Oudho Homenauth, Chief Executive Officer of NAREI
NAREI is the premier organization of Guyana responsible for spearheading agricultural research and extension activities for productivity enhancement and diversification of the non- traditional crops sector (fruits and vegetables), biofuel development as well as for plant quarantine services.
The Head of NAREI, Dr. Oudho Homenauth believes that the monitoring platform would enable NAREI to better plan its mangrove restoration programme and inform stakeholders, both at the community and government level, on the status of the critical mangrove ecosystem annually.
Jesus Quintana celebrates this important milestone of the SERVIR-Amazonia Program, "This collaborative agreement is illustrative of the transformative vision that the Alliance of Bioversity International and CIAT embraces. It shows our collective capacity to innovate and confront the challenges that the Amazon basin faces".
The collaborative agreement was signed on February 15, 2021 by Dr. Oudho Homenauth, Chief Executive Officer of NAREI, and the Managing Director for the Americas of the Alliance of Bioversity International and CIAT, Jesús Quintana. The event was also attended by representatives of NASA and USAID.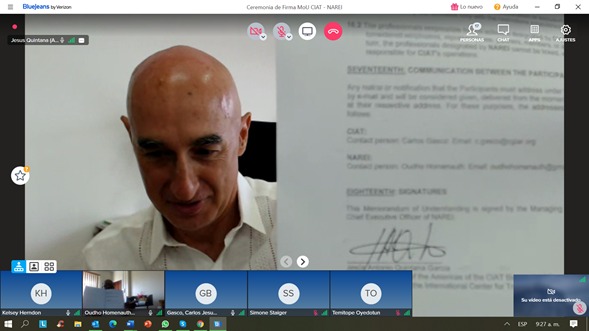 Jesús Quintana, Managing Director for the Americas of the Alliance of Bioversity International and CIAT